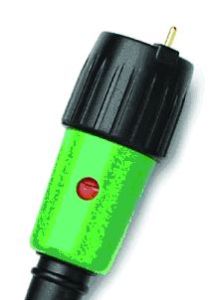 Probe is a matching unit used for oscilloscope inputs connection to the electric circuit points under test. Inaccuracy of signal data measurement, the correctness of the displayed waveform under survey depend on probes.
In general, the probe is the device shown in the image below.

Probes of the same type from different manufacturers may have slight differences that affect the price and quality of measurements.
For some certain measurement task there is a special probe type used. For its whole operation life it wears out earlier than the oscilloscope itself and needs to be replaced. Therefore it's a removable and replaceable element.
The simplest probe type - passive probes with a compensated voltage divider. In order to achieve the compensation term it's necessary to adjust the capacity, e.g. with the help of variable capacity adjustable capacitor. In the course of compensation there is no distortion of rectangle pulse generated by the built-in calibrator. In case of pulse top drop you can face undercompensation, pulse rise leads to overcompensation.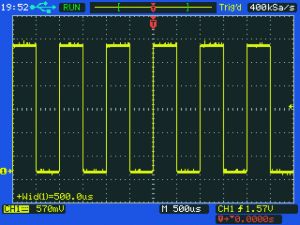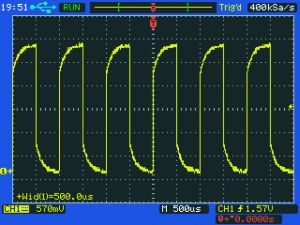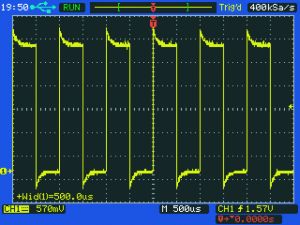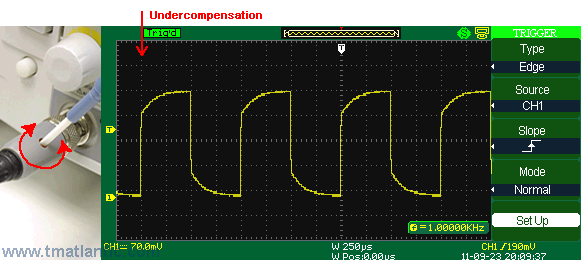 The majority of probes make it possible to increase maximum DC voltage or LF voltage from dozens of volts up to 500-600 V. At high frequencies the reactive power dramatically increases and it's necessary to reduce the maximum probe input voltage, otherwise it can burn. However, there are high voltage probes considered as a kind of passive probes. They usually have a division factor of 1/100 or 1/1000 and input resistance of 10 MΩ or 100 MΩ.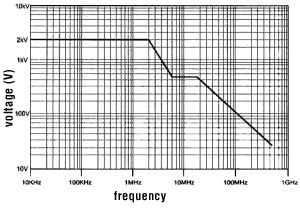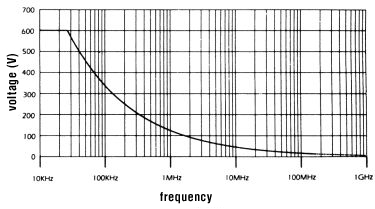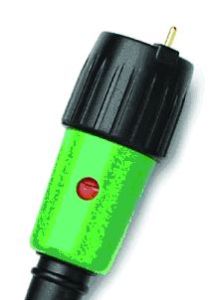 La sonda es una unidad de adaptación utilizada para la conexión de las entradas del osciloscopio a los puntos del circuito eléctrico bajo prueba. Inexactitud de la medición de datos de señal, la corrección de la forma de onda mostrada bajo estudio depende de las sondas.
En general, la sonda es el dispositivo que se muestra en la imagen a continuación.

Las sondas del mismo tipo de diferentes fabricantes pueden tener ligeras diferencias que afectan el precio y la calidad de las mediciones.
Para algunas tareas de medición determinadas, se utiliza un tipo de sonda especial. Durante toda su vida útil, se desgasta antes que el propio osciloscopio y necesita ser reemplazado. Por lo tanto es un elemento desmontable y reemplazable.
El tipo de sonda más simple: sondas pasivas con un divisor de voltaje compensado. Para lograr el plazo de compensación es necesario ajustar la capacidad, por ejemplo: Con la ayuda de un condensador ajustable de capacidad variable. En el curso de la compensación no hay distorsión del pulso rectangular generado por el calibrador incorporado. En el caso de una caída superior del pulso, puede enfrentar una compensación insuficiente, el aumento del pulso conduce a una compensación excesiva.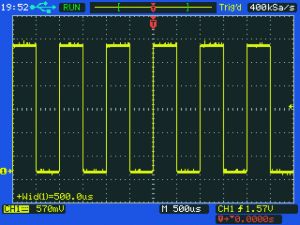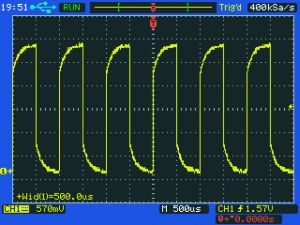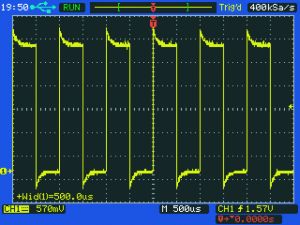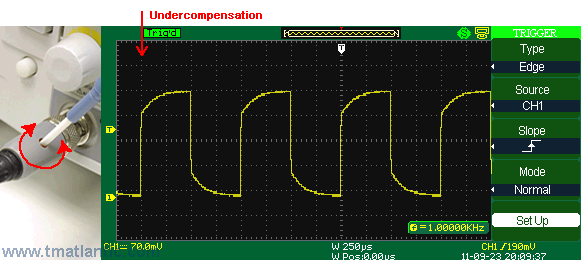 La mayoría de las sondas permiten aumentar la tensión continua máxima o la tensión LF desde decenas de voltios hasta 500-600 V. A altas frecuencias, la potencia reactiva aumenta drásticamente y es necesario reducir la tensión máxima de entrada de la sonda, de lo contrario, puede quemarse. Sin embargo, existen sondas de alto voltaje consideradas como una especie de sondas pasivas. Suelen tener un factor de división de 1/100 o 1/1000 y una resistencia de entrada de 10 MΩ o 100 MΩ.