T&M Atlantic's Exclusive Product Comparing and Research Tool
T&M Atlantic has developed a unique tool that allows visitors to compare products available in www.tmatlantic.com online store, based on major parameters: Price, Bandwidth, Sample Rate and others.
Using this exclusive service, visitors can also quickly and easily compare instruments available in our online store and other major brand instruments.
About the service
This service was developed by T&M Atlantic and it's free to all its visitors and users.
All information used in the development of this service was obtain from public sources such as web sites, catalogs, price lists and other published information. Prices quoted in the comparing lists are subject to change without notice.
How to use
This service was developed to assist visitors in choosing an instrument available on our site, in addition you can compare our devices with other major brands.
For example, to compare oscilloscopes first select any oscilloscope available on www.tmatlantic.com, add it to compare list and then compare it with any other oscilloscope available on the site or choose any brand available from the drop down menu.
Step by Step instructions
1. Go to www.tmatlantic.com and click on

.
2. Choose product category (for example, Benchtop Oscilloscopes AKTAKOM).
3. In the product list find the oscilloscope you want to compare.
4. On the right side under the price and shipping info you'll find the "Add to compare list" button.

5. Click the "Add to compare list" button to add the selected oscilloscope to the compare list.

6. Repeat the process to add another oscilloscope to the list.

7. From here you can compare the items you selected by clicking on "Compare" or clear the list to start a new list.
8. To compare oscilloscopes you selected to other major brands click on "Compare with other brands".
9. The new Compare products page will open where you can select any oscilloscope available in our online store and most major brand models from the drop down list.

All selected oscilloscopes will be added to the comparison table and will appear bellow.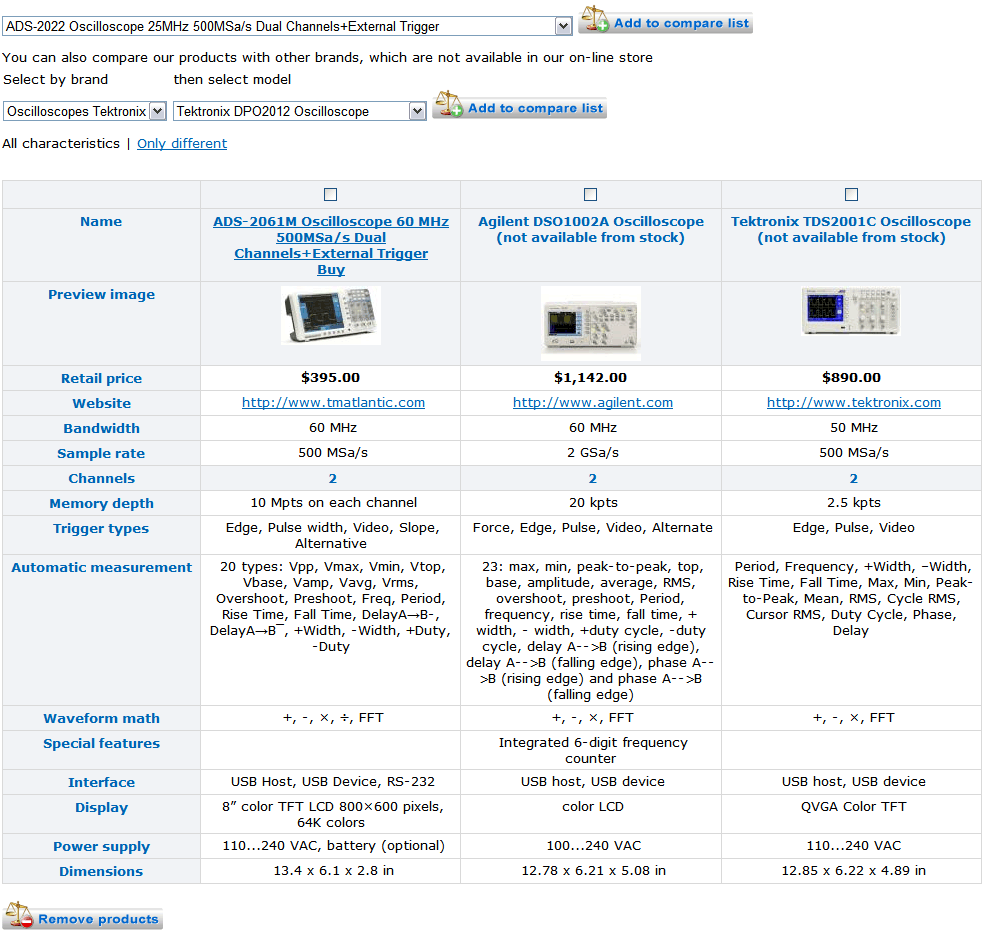 10. To remove any products from the comparison table just check corresponding checkbox in the table and click "Remove products" button.
11. We welcome your comments, if you'd like us to add any parameters to the list please contact our marketing department at marketing@tmatlantic.com.