Bandwidth

Oscilloscope bandwidth is a frequency range ("Fl - Fh" in the pic.) where oscilloscope signal attenuation doesn't exceed – 3 dB relative to reference frequency signal ("Fr" in the pic.). Reference bandwidth shouldn't exceed 5% of bandwidth upper frequency limit. For general purpose oscilloscopes reference frequency is usually taken as 1kHz. In addition such oscilloscopes usually have "AC-DC" input mode switching capability. In DC mode bandwidth lower frequency equals 0 (Fl = 0). That allows working with low-frequency signals, to the direct current, as well as with the signals which have a constant component. Also all oscilloscopes have bandwidth limit function for the improving of signal/noise ratio during regular signals registration.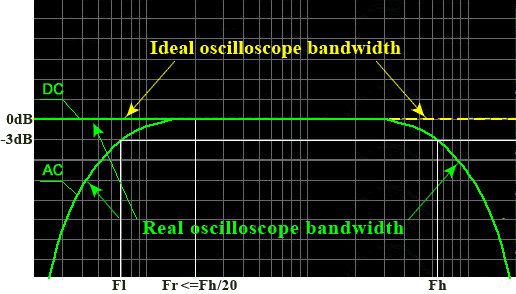 There is a certain connection between the bandwidth upper frequency and a scope rise time:
Fh(MHz) = 0.35 / tr (μs)
This ratio is right if the rise time is measured between 10% and 90% levels from the amplitude of rectangular test signal on the scope display. The whole device analog tract is considered equivalent to the periodical link of the first order. For general purpose oscilloscopes such conditions are usually satisfied.