01/06/2015
Miami Fl., January 6, 2014
–
T&M Atlantic
, distributer of the test and measurement equipment, today unveiled at CES (Las Vegas) innovative products under international AKTAKOM trade mark. There are many innovations that AKTAKOM would like to share with you. One of them is device series under general name "Wireless mobile measuring laboratory AKTAKOM". These series include power supplies, digital oscilloscopes, benchtop and handheld multimeters, nonelectrical quantities meter, matrix RF signals switch box etc.
«The use of wireless technologies allows you to take measurements in the field staying at your working place. Measurements haven't ever been that convenient and simple. "Wireless mobile measuring laboratory AKTAKOM" raises the convenience of your work to a new level». - Simion Tseytlin said, General manager of the company.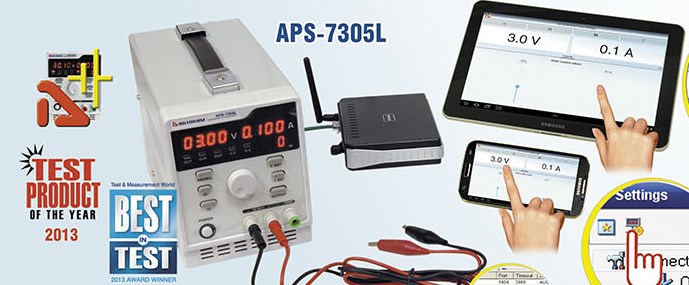 The most popular device of these series is AKTAKOM APS-73xxL power supply which became the winner of Best in Test contest held by Test & Measurement World in "Power Supply" category and also became the Product of the Year 2013! At the end of 2014 AKTAKOM APS-7305L was visibly modificated and broaden its capabilities due to ASPM Aktakom Smart Power Manager software. APS-7305L laboratory power supply can operate in off-line mode in accordance to the specified program (cyclogram). AKTAKOM APS-7305L operation in new off-line mode allows you to automate different equipment test for a long time without the supervisor's help. You can set this test sequence beyond the test place. This is very convenient feature for field test.
More information can be found at www.tmatlantic.com
For more details about Wireless mobile measuring laboratory AKTAKOM you are welcome to T&M Atlantic South hall of LVCC, at booth # 35156.
About T&M Atlantic.
www.tmatlantic.com is an online store that distributes oscilloscopes, anemometers, cable locators, clamp meters, digital multimeters, humidity meters, insulation testers, light meters, milliohm meters, RLC meters, sound level meters, tachometers, thermometers and soldering equipment to the laboratories, R&D centers, colleges, universities, tech companies, government contractors and to the general public. The site is secure and highly informative with a variety of educational videos and articles posted throughout the site. The majority of our products are sold under the AKTAKOM trade mark. We are also offering several other brands such as RIGOL, OWON, TRONEX and more.
Our Mission is to promote innovative, high-quality, reliable and easy to use measuring equipment. Our main goal is Complete Customer Satisfaction.
We strive to become one of the leading suppliers of electronic measuring devices through a combination of newest technologies, affordability to the customers, ease of use and competitive prices for all our products.