High performance power supply for laboratory research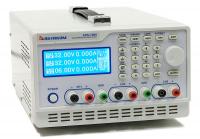 08/07/2023
AKTAKOM APS-7205 is a high performance 3-channel DC remote controlled programmable power supply which is designed to power radio devices with stabilized voltage or current and it is indispensable when testing the reaction of electronic equipment to the supply voltage changes.
APS-7205 power supply has the following specifications:
Rated Output Voltage: 0~32V x2; 0~6V x1
Rated Output Current: 0-5A x3; 0-3A x1
Resolution Voltage: 10mV
Resolution Current: 1mA (≤3A) / 2mA (>3A)
Power Effect Voltage: ≤3mV
Power Effect Current: ≤3mA
Load Effect Voltage: ≤3mV (≤3A) / ≤8mV (>3A)
Load Effect Current: ≤3mA (≤3A) / ≤5mA (>3A)
Set Accuracy Voltage: ≤0.05%+10mV (≤36V) / ≤0.05%+20mV (>36V)
Set Accuracy Current: ≤0.1%+5mA (≤3A) / ≤0.1%+10mA (>3A)
Ripple (20Hz~20MHz) Voltage: ≤1mVrms (≤3A)
Ripple (20Hz~20MHz) Current: ≤3mArms (≤3A) / ≤5mArms (>3A)
Memory Store/Recall: 0~90 points
Memory Setting timer (resolution): 1s~9999s (1s)
This model can be programmed either from the front panel or via RS-232 or USB interfaces.
AKTAKOM APS-7205 programmable DC power supply differs from other similar power supplies by wide capabilities of local and remote control through AKTAKOM Power Manager software.
Due to the low ripple and noise level and the ability to program the operation modes APS-7205 power supply is the optimal choice for laboratory research.
---
Related Information:
Deals - Special offers
Design. Engineering. Value. Interest. Creativity. Encyclopedia.