Average

Average is one of the acquisition modes in digital oscilloscope. The averaged waveform is a running average over a specified number of N acquisitions.
Apply averaging to your signal to remove uncorrelated or random noises and to improve measurement accuracy.
The number of acquisitions for averaging is set up discretely depending on the specifications of certain models. In the majority of oscilloscope models there is average used from 2 or 4 acquisitions to 128 or 256.
The following screenshot shows the signal of 10 kHz frequency with uncorrelated noise acquired by the oscilloscope in the sampling mode.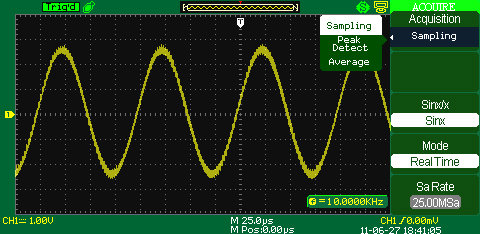 The screenshot below shows the result of averaging over 256 acquisitions.