Base unit

Measurement unit that is adopted by convention for a base quantity.
Example:  
The International System of Units (SI) defines seven units of measure as a basic set from which all other SI units are derived. These SI base units and their physical quantities are:
metre (m) for length
kilogram (kg) for mass
second (s) for time
ampere (A) for electric current
kelvin (K) for temperature
candela (cd) for luminous intensity
mole (mol) for the amount of substance.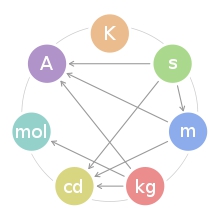 The seven SI base units and the interdependency of their definitions