Candela (cd)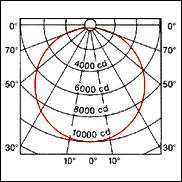 The candela (symbol: cd) is the SI base unit of luminous intensity; that is, power emitted by a light source in a particular direction, weighted by the luminosity function (a standardized model of the sensitivity of the human eye to different wavelengths, also known as the luminous efficiency function). A common candle emits light with a luminous intensity of roughly one candela. If emission in some directions is blocked by an opaque barrier, the emission would still be approximately one candela in the directions that are not obscured.
The luminous intensity of light-emitting diodes is measured in millicandela (mcd), or thousandths of a candela. Thus indicator LEDs are typically in the 50 mcd range; "ultra-bright" LEDs can reach 15000 mcd, or higher.
Find more here:
http://en.wikipedia.org/wiki/Candela
.