Of course this is not a terrifying, supernatural movie. White noise is a random signal (or process) with a flat power spectral density. In other words, the signal contains equal power within a fixed bandwidth at any center frequency. White noise draws its name from white light in which the power spectral density of the light is distributed over the visible band in such a way that the eye's three color receptors (cones) are approximately equally stimulated. An infinite-bandwidth white noise signal is a purely theoretical construction. The bandwidth of white noise is limited in practice by the mechanism of noise generation, by the transmission medium and by finite observation capabilities. A random signal is considered "white noise" if it is observed to have a flat spectrum over a medium's widest possible bandwidth.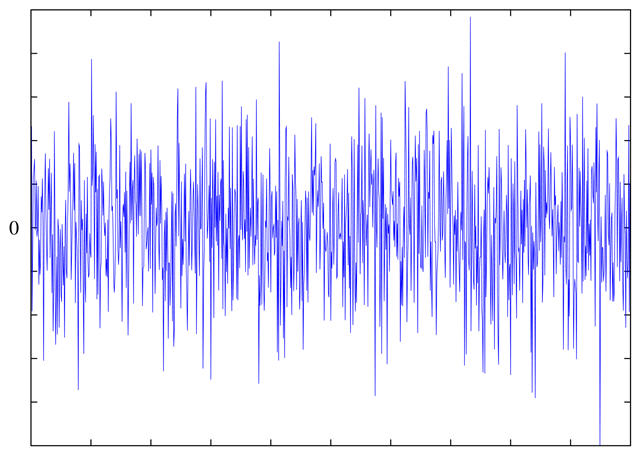 We have receipt mails like this:
Hello, does the DG1022 generate adjustable white noise frequency and amplitude?

Yes of course using the RIGOL DG1022, DG2041A or DG3061A Function/Arbitrary Waveform Generator from our online store you will be able to generate a white noise. Please see the illustration: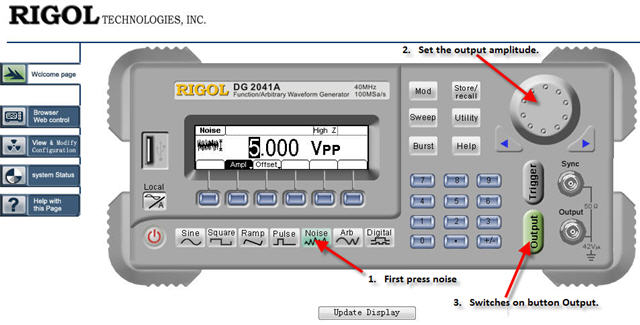 1. First press noise button.
2. Set the output amplitude.
3. Switches on button Output.
Now let use an oscilloscope OWON PDS8202T to see the signal that the generator is providing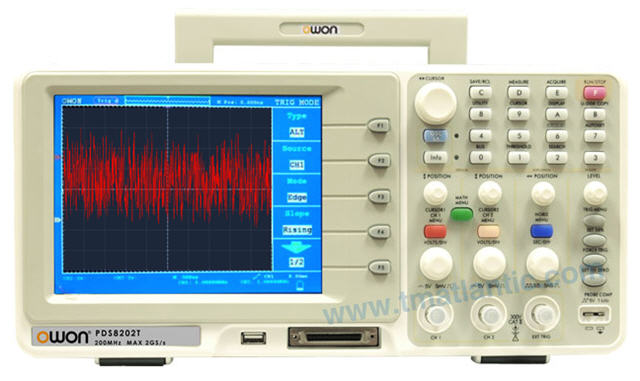 To get a better picture we are going to get the data from the oscilloscope to my personal computer using a USB connector. If you have your own equipment you will need to install the driver and software using the disc that comes with the oscilloscope or download from our website.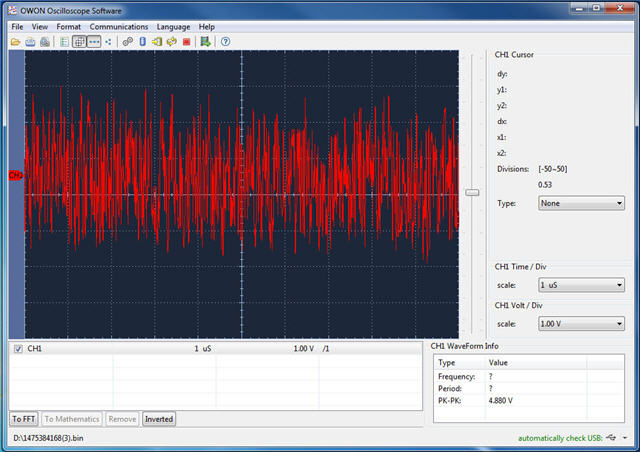 This is the same picture that you can see in your oscilloscope but using the computer screen I can fix in my screen to see how splendid a white noise signal is.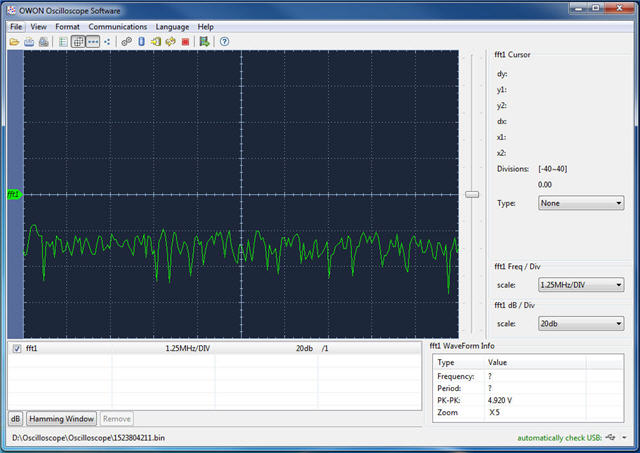 Finally if I take off the button FFT we corroborate that the noise is real white!
Por supuesto, esta no es una película aterradora y sobrenatural. El ruido blanco es una señal aleatoria (o proceso) con una densidad espectral de potencia plana. En otras palabras, la señal contiene la misma potencia dentro de un ancho de banda fijo en cualquier frecuencia central. El ruido blanco toma su nombre de la luz blanca en la que la densidad espectral de potencia de la luz se distribuye sobre la banda visible de tal manera que los tres receptores de color del ojo (conos) se estimulan aproximadamente por igual. Una señal de ruido blanco de ancho de banda infinito es una construcción puramente teórica. El ancho de banda del ruido blanco está limitado en la práctica por el mecanismo de generación de ruido, por el medio de transmisión y por las capacidades de observación finitas. Una señal aleatoria se considera "ruido blanco" si se observa que tiene un espectro plano en el ancho de banda más amplio posible de un medio.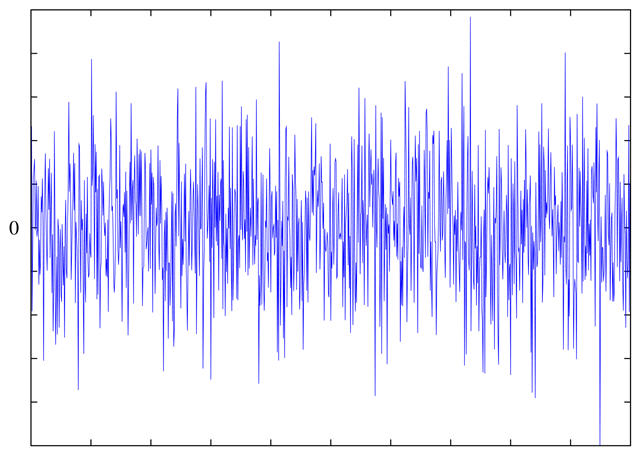 Nosotros hemos recibido correos como este:
Hola, el DG1022 genera frecuencia y amplitud de ruido blanco ajustable?

Sí, por supuesto, utilizando el generador de función/forma de onda arbitraria RIGOL DG1022, DG2041A o DG3061A de nuestra tienda en línea, Ud podrá generar un ruido blanco. Por favor vea la ilustración: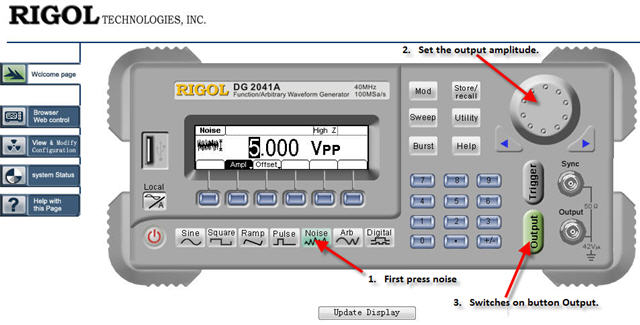 1. Primero presione el botón de ruido.
2. Establecer la amplitud de salida.
3. Enciende el botón Salida.
Ahora use un osciloscopio OWON PDS8202T para ver la señal que proporciona el generador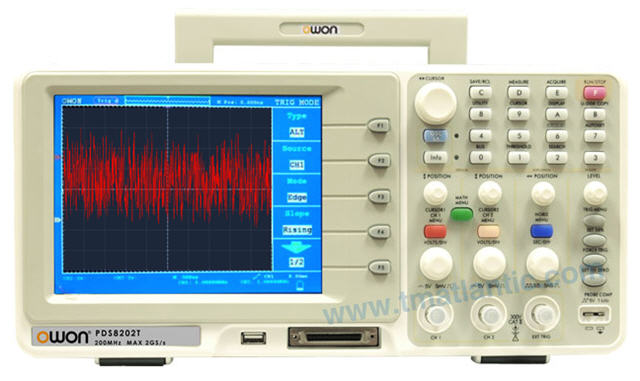 Para obtener una mejor imagen, vamos a obtener los datos del osciloscopio en mi computadora personal mediante un conector USB. Si tiene su propio equipo, deberá instalar el controlador y el software usando el disco que viene con el osciloscopio o descargarlo de nuestro sitio web.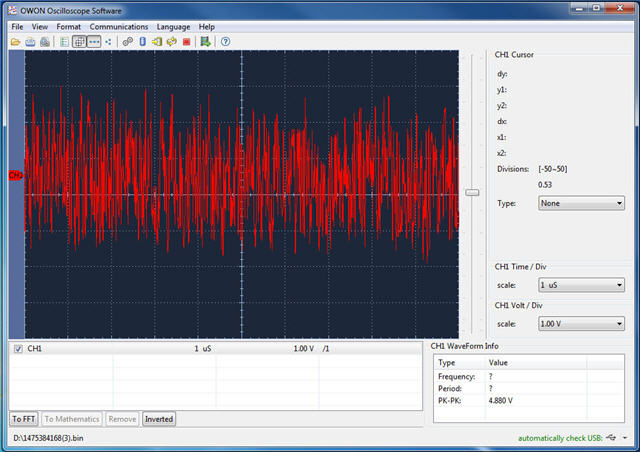 Esta es la misma imagen que puedes ver en tu osciloscopio pero usando la pantalla de la computadora, puedo fijarla en mi pantalla para ver cuán espléndida es una señal de ruido blanco.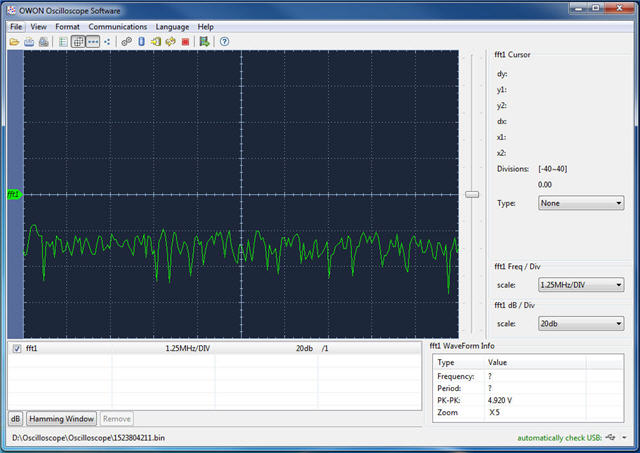 ¡Finalmente si quito el botón FFT corroboramos que el ruido es blanco real!