Continuity test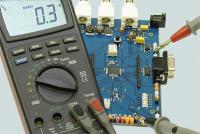 Continuity test is an operation to check electric circuit or its part continuity, and also the ways to detect fault locations, circuit disconnection, unreliable contacts or a low resistance part, as well as, any failed parts. Special probes or devices (multimeters, as a rule) with an appropriate function (

) should be used for this type of test. Continuity test is made with electric circuit power switched off. If the resistance within the circuit is lower than the value set in the ohmmeter (usually 5 Ω, however this threshold can be regulated in some models) the device makes a beep and/or light signal.
Continuity test modes
In multimeter continuity test mode the tested circuit is connected to the internal DC source, for example,1 mA. Then measure the terminal voltage of the multimeter. If the measured value is lower than the value fixed in the device or set by user the continuity test result is positive, the device will give a notification, for example a beep. Therewith maximum multimeter open-circuit voltage is limited by the device manufacturer and equals several volts.