Aliasing

When you change horizontal sweep on a digital oscilloscope you can see the waveform changing of the same signal on different horizontal sweeps.
It's important to take into consideration the fact that you work with a digital oscilloscope and it digitizes a signal with different sampling rate depending on the horizontal sweep chosen, and afterwards it connects the digitized points with a smooth line (interpolates them), restores the real signal waveform.
Example: You are measuring the mains frequency of 50 Hz at sweep of 10 ms/div with sampling rate of 20 kHz (kSa/s). One signal period (20 ms), digitized in this mode, 20E-03(sec) * 20E03(1/sec) = 400 points. It's enough to restore and interpolate a sine wave of 50 Hz (i.e. in a period of 20 ms).
Normal waveform at 10 ms/div sweep: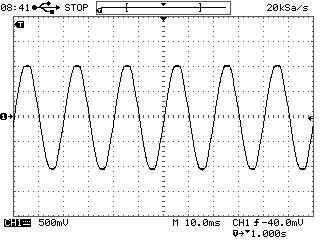 Distortion of the same signal waveform at 10 s/div sweep: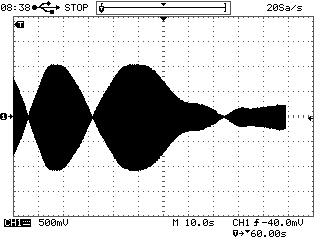 On the second display the sweep is set for 10 s/div and the sampling rate at this sweep is 20 Sa/s. That means that for one signal period of 20 ms: 20E-03(sec) * 20(1/sec) = 0.4 points. That is impossible to restore (point by point interpolation) the sine wave having less than one point for the period. Therefore you get aliasing formed by the beating of the frequency under measurement and the sampling rate.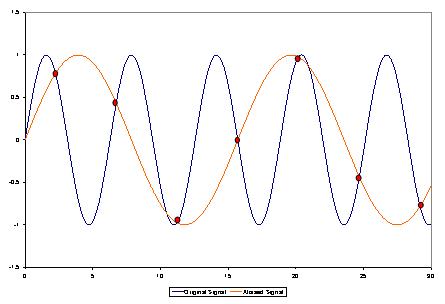 To set data acquisition mode of a digital oscilloscope correctly you should follow a simple rule: its sampling rate should be at least 5-10 times higher than the signal frequency. In this case you will be able to escape any mistakes which can be seen on the second display.
All of this concerns any digital oscilloscope and it's connected neither with its type nor with its probes.