Aktakom digital oscilloscopes of high 12-bit resolution are on sale already!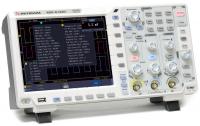 07/07/2016
The family of Aktakom digital oscilloscopes includes now new ADS-6xxx series.
At the moment this series includes 100 MHz models namely ADS-6122 and ADS-6122H.
"H" index in ADS-6122H name means the devices represents a digital oscilloscope of very high resolution and there is 12-bit ADC used, therefore this oscilloscope can be used for research and analysis of complex and noisy signals where the features of 8-bit resolution oscilloscopes are not enough.
Among other features of this digital oscilloscope it's worth paying attention to the large memory depth of up to 40 Mpts, high 75000 wfms/s waveform capture rate, large 8" display with 800x600 resolution in standard list of equipment, compact housing.
Technical characteristics in brief can be checked in the below table:
Functionality
ADS-6122
ADS-6122H
Channel qty
2 + external triggering
Bandwidth
100 MHz
Sample rate
1 GSa/s
ADC resolution
8
12
Max. memory depth
40 Mpts
Waveform capture rate
75 000 wfms/s
Horizontal sweep
2 ns/div…1000 s/div
Vertical deviation
1 mV/div…10 V/div
Triggering type
Edge, pulse, video, rise time, runt, windows, N edge, logic; serial bus signals (option)
Distinguishing feature of this series is the capability to increase the functionality of the device. Therefore there can be several devices combined in one housing:
Aktakom ADS-6xxx series digital storage oscilloscopes are a new step forward in the modern oscillography development basing on the most advanced technology and suggesting users unequalled capabilities to solve wide range of measurements tasks at a favorable price.
The family of Aktakom ADS-6xxx digital oscilloscopes will keep on growing!
To buy new Aktakom oscilloscopes click here.
---
Related Information:
Deals - Special offers
Design. Engineering. Value. Interest. Creativity. Encyclopedia.