Ultra-compact AKTAKOM ADS-2221MV oscilloscope with 10M memory depth for each channel!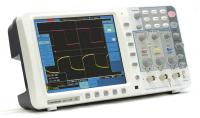 01/16/2019
AKTAKOM ADS-2221MV oscilloscope can be considered a mixed model because on one hand it has a benchtop design but at the same time ultraslim, lightweight housing and battery powering allows considering it a handheld device that can be easily used in the field terms.
ADS-2221MV digital oscilloscope will always give you a hint how to use it. Just press "HELP" and get User Manual on your oscilloscope screen. It is ideal for learning and if you forgot any oscilloscope function.
The VGA output is very helpful for those who wants to demonstrate oscilloscope functions on the large screen. ADS-2221MV can be connected to a large screen TV, a projector or any other screen and used for training, presentations and demonstrations that makes it perfect for education process.
Briefly about specifications:
10M memory depth for each channel!
200MHz with 2+1 (External) channels
2GSa/s (1GSa/s for dual channel)
Large 8″ 800×600 Pixels LCD display
AutoScale function
Pass/Fail function
Smart design with easy workplace
Interface USB and VGA (optional)
Nominal entrance: 110-220V 50-60Hz
For more details check the webpage of AKTAKOM ADS-2221MV oscilloscope. The page contains User manual, detailed instruction, the answers for frequently asked questions and also a video course about ADS-2000 series oscilloscopes in "Video" tab.
---
Related Information:
Deals - Special offers
Design. Engineering. Value. Interest. Creativity. Encyclopedia.