Additional capabilities of AKTAKOM ATT-9002 vibration meter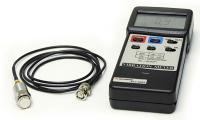 09/14/2020
AKTAKOM ATT-9002 is a portable vibration meter which is designed to measure unbalanced response of mechanisms. Parameters under measurement: rate, RMS and peak measurement, velocity / acceleration measuring range. ATT-9002 frequency range is 10 Hz…5 kHz, its measurement rate is approximately 1 sec.
Other features that ATKAKOM ATT-9002 has:
1. RS232 interface availability, capability to connect to PC via USB port with the help of AKTAKOM ACE-1026 and ADLM-W or ADLM-A programs based on Windows or Android OS respectively.
2. With the help of AKTAKOM ATE Easy Monitor AKTAKOM ATT-9002 provides numerical indication of 4 channel measurements as well as the data record in CSV format (with ACE-1026 use).
3. ATT-9002 has a built-in auto switch off function that saves the battery life.
4. In case there are no buttons pressed for about 10 minutes ATT-9002 will be switched off automatically (To deactivate this function select memory record function during the measurement process by pressing Record button)
Find more details on ATT-9002 page.
---
Related Information:
Design. Engineering. Value. Interest. Creativity. Encyclopedia.