08/22/2022
The main feature of Aktakom
ATE-9382
is its use for offline automatic monitoring of sensor data. Considering its intended use of course it does not have all of the customer-related functions like switching on/off the backlight, auto-powering off etc. But at the same time ATE-9382 has functions that other meters with SD memory card do not have.
Here are some more details about this model:
Aktakom ATE-9382 is a 3-channel datalogger capable of the following parameters monitoring: relative air humidity, air temperature and atmosphere pressure. The information about the measured data is received from the built-in sensor and the data of every parameter is displayed simultaneously, in a separate line each. Thus this model is very convenient to monitor the meteorological or climatic environment.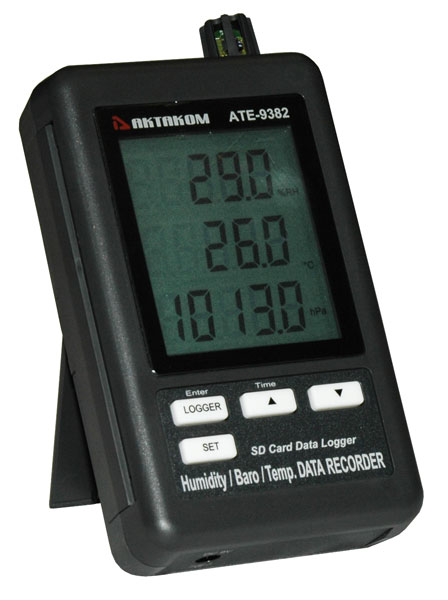 ATE-9382 allows fixing air temperature parameters at 0 to 50°C range, relative humidity (10%...90%RH) and atmosphere pressure (from 10 up to 1100 hPa) with high precision and resolution. ATE-9382 also has "Auto" mode but comparing to ATE-9380 in ATE-9382 this mode can fix the data when 1 of 2 parameters has been changed: when temperature is changed by more than ±1°C or the relative humidity is changed by more than ±1%RH.
Aktakom ATE-9382 can record the measured data to SD card in real time in Excel format and without any additional software used. SD card can be from 1 to 16 Gb but to make sure you have enough space it's recommended to used 4 Gb cards. To make the next analysis more convenient you need to specify the full date (date, month and year) and time (hour, minute and second).
Saved data (table format, .xls) will look the following way: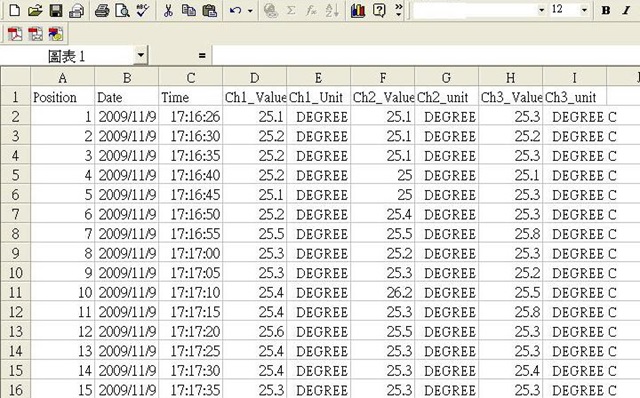 And using Excel this data can be easily converted into the graph form: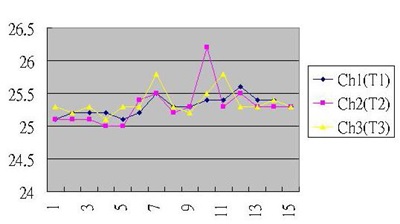 This model can be connected to PC via RS-232 or USB-port with the help of Aktakom ACE-1025 interface converter and wide functionality of the following softwares: Aktakom ATE Easy Monitor (ATEEM) and Aktakom Data Logger Monitor (ADLM-W) (with Windows OS PCs) or Aktakom Smart Data Monitor (ASDM) and Aktakom Smart Data Logger (ASDL) (for tablet PCs and Android OS PCs).
Standard accessories of ATE-8382 include AKTAKOM File Converter (AULFConverter) to transfer data files in AUL format (AKTAKOM USB Lab) between various applications of AKTAKOM USB laboratory as well as to covert these files into CSV (Comma Separated Values) text format and into WAV.
More details are available on ATE-9382 web page.