2-in-1: thermometer and datalogger. AKTAKOM ATE-2036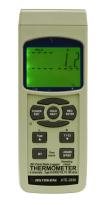 08/29/2022
Multichannel AKTAKOM ATE-2036 thermometer and datalogger is capable of temperature measuring simultaneously on four channels using K-, J-, T-, E-, R- and S-type thermocouples or on two channels with platinum thermal resistance.
One of the features of ATE-2036 model is the ability to save the measured data to SD-card in Excel format in real time without (!!!) any additional special software use. In datalogger mode there can be up to 100 measurements recorded into the internal memory of the device.


AKTAKOM ATE-2036 is equipped with a large display with adjustable backlight.
ATE-2036 also can:
fix Max/Min values
hold the readings due to HOLD function availability
switch off automatically due to auto-power off function
More functions that should be mentioned about – RS-232 serial interface capable of PC connection via USB with Aktakom ACE-1025 interface converter and wide data processing capabilities with ADLM-W software or ASDM and ASDL applications Windows and Android based respectively.
Page of AKTAKOM ATE-2036 thermometer and real time SD memory card datalogger contains detailed specifications and application description. Moreover in "Software" tab you may see the above software and even download them for free. Read more
---
Related Information:
Industry news
Deals - Special offers
Design. Engineering. Value. Interest. Creativity. Encyclopedia.