AKTAKOM ATT-6000 tachometer for noncontact measurement in hard-to-reach spaces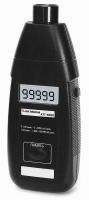 05/23/2022
AKTAKOM tachometers are specially designed for accurate measurements of rotation speed as well as the shaft angular velocity. AKTAKOM tachometers use various measurement methods: contact, contactless photo, contactless laser pointer. And the combination of different measurement methods in one device allows user to widen the application area.
AKTAKOM ATT-6000 is a portable tachometer for noncontact measurement of rotation velocity in hard-to-reach places. Specifications and features of this compact device make it very popular. They include the following capabilities:
Display: 5 digits, 0.4in/10mm LCD
Measurement and range: 5 to 99,999 RPM
Resolution:
- 0.1 RPM (0.5 to 999.9 RPM)
- 1 RPM (over 1,000 RPM)
Accuracy: (0.05 % + 1 digit)
Sampling Time: 1 sec. (over 60 RPM)
Test range select: Automatic
Memory: Last, Maximum, Minimum value
Detecting distance: 2 to 6 in / 50 to 150 mm (typical max. 12 in / 300 mm, depending upon ambient light)
Time base: Quartz crystal, 4.194 MHz
Circuit: Exclusive one-chip of microcomputer LSI circuit.
Battery: 4 x 1.5V AA (UM-3) battery
Power consumption: Approx. DC 150 mA. (operation)
Operating temperature: 32 - 122°F / 0 - 50°C
Dimensions: 7.5 x 2.8 x 1.5 in / 190 x 72 x 37 mm
Weight: 8.3 oz / 235 g only
Moreover ATT-6000 model is capable of storing the last max./min. values automatically in its memory.
One of the features that makes this very model especially convenient for using is its light weight ABS-plastic housing. Due to it the model comfortably fits your hand.
More details can be checked on AKTAKOM ATT-6000 page.
---
Related Information:
Industry news
Deals - Special offers
Design. Engineering. Value. Interest. Creativity. Encyclopedia.