Aktakom ATE-6006 tachometer to help service engineers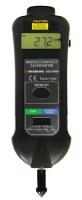 06/13/2022
For service engineers working in production it often becomes necessary to measure shaft speed. And shaft diameter as well as the operation conditions may be different. What should they do in this case? Of course they may buy and use two different devices – contact tachometer and contactless one. But there is some other more convenient solution to use a combined type tachometer like Aktakom ATT-6006.
This model combines 2 devices in 1 – it is a tachometer capable of linear speed measuring and also a phototachometer. That means it represents both measurement methods – contact and contactless.
What is special about ATE-6006 there is no need to change the measurement probes like some other manufacturers do. All you need is to turn the device and use the other side of it.
Technical specifications:
Photo tachometer: 0.5 to 19,999RPM
Contact tachometer: 0.5 to 19,999RPM
Surface speed:
m/min. — 0.05 to 1,999.9m/min.;
ft/min. — 0.2 to 6,560ft/min
Resolution:
RPM:
0.1RPM (<1,000RPM)
1RPM (1,000RPM)
m/min:
0.01m/min (<100m/min)
0.1m/min. (100m/min)
ft/min:
0.1ft/min (<1,000ft/min)
1ft/min (1,000ft/min)
Display: 5 digits, 10mm (0.4") LCD
Accuracy: ±(0.05%+1digit), RPM only
Detecting distance: 2in to 78.7in / 5cm to 200cm typical
The specification detecting distance (max. 78.7in/200cm) are tested under the 1800RPM & the size of the reflecting tape is 0.4x0.4in/1x1cm
Light Source: 1mW class 2 laser diode
Time base: Quartz crystal
Circuit: Exclusive one-chip of microcomputer LSI circuit
Operating temperature: 0-50°C (32-122°F)
Operating humidity: Less than 80% R.H.
Memory: Last/Max./Min. value.
Battery 4x1.5V AA (UM-3) batteries
Power Consumption:
Photo type: Approx. DC 21mA
Contact type: Approx. DC 7mA
All other features you may check visiting ATE-6006 web page.
---
Related Information:
Industry news
Deals - Special offers
Design. Engineering. Value. Interest. Creativity. Encyclopedia.