New AKTAKOM ATK-6010 Phase Interlacing Pointer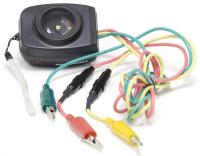 11/09/2015
AKTAKOM electrical safety testers includes a new model now – ATK-6010 phase interlacing pointer.
AKTAKOM ATK-6010 phase interlacing pointer is capable of determining phase interlacing when connecting to three-phase receivers (asynchronous / synchronous motors, driver, protectors, counters etc.). Reliable connection to phases is provided with alligator clips at the ends of the test leads (their length equals to 3.9 lb). ATK-6010 has a pointer indicator which acts in case of voltage availability in the network. It's protected with a fuse, can be easily put into your pocket and weights 0.6 lb only.
AKTAKOM ATK-6010 phase interlacing pointer has the following technical specifications: voltage range: 110...480 V; frequency range: 40...70 Hz; test time: 480 V - 4 min. / 220 V - 30 min. / 110 V – long time; insulation dielectric strength: 2000 V; insulation resistance: 100 MΩ; test leads length: 1.2 m; deviation: ±15° (horizontal); fuse: 0.5A / 700V.
More information is available on ATK-6010 page.
---
Related Information:
Design. Engineering. Value. Interest. Creativity. Encyclopedia.