AKTAKOM ACM-6060 Phase rotation tester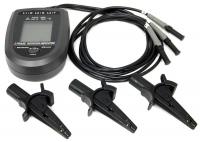 06/20/2019
One of the important parameters of three phase networks is phase interlacing. Disregarding of this parameter can cause the equipment failure.
AKTAKOM ACM-6060 Phase rotation tester is used to control the correct connectivity of three phase equipment before the installation and during the test operation.
ACM-6060 is low cost and easy to use device which has all necessary functions for three phase networks operation. The main features of this phase rotation tester are as follows:
high reliability
Large LCD display with backlight
Input voltage: 100V…660V (45-70 Hz)
Custom one-chip of microprocessor LSI circuit
Click here to find more details about AKTAKOM ACM-6060 Phase rotation tester.
---
Related Information:
Design. Engineering. Value. Interest. Creativity. Encyclopedia.