01/08/2015
Miami Fl., January 8, 2014 – T&M Atlantic, distributer of the test and measurement equipment, today announced a new device at International CES 2015. Its device series under general name "Wireless mobile measuring laboratory AKTAKOM" contains different measuring devices including power supplies, digital oscilloscopes, benchtop and handheld multimeters, nonelectrical quantities meter etc.
«Developing these device series we were guided by our long-term and rich experience. Wireless technologies make our life much easier giving new advantages for successful work». – said the General manager of T&M Atlantic – Mr. Simion Tseytlin.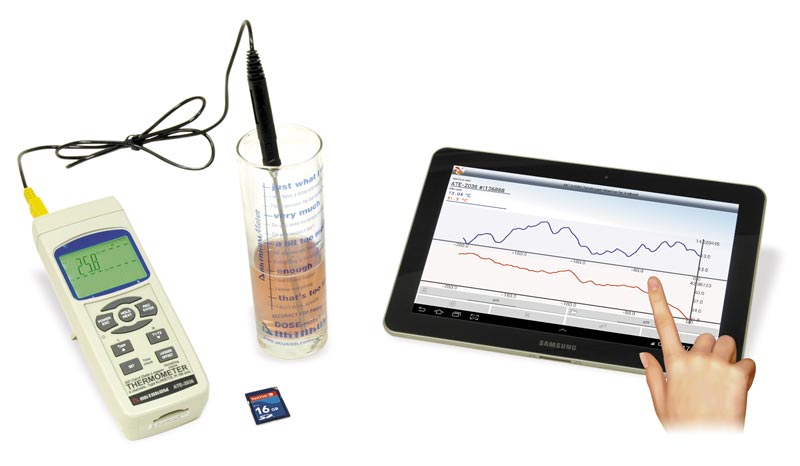 New device of these series announced at the show is AKTAKOM ATE-2036BT. AKTAKOM ATE-2036BT is a 4 channels thermometer with real time SD memory card datalogger with Bluetooth interface.
Comparing to the basic AKTAKOM ATE-2036 version new AKTAKOM ATE-2036BT is capable of data logging by Bluetooth. The advantage of this feature is that you may use PC (Windows OS) or any mobile device with Bluetooth – your smartphone or tablet PC (with Android OS).
4-channel temperature measurement is made with the help of the following thermocouple types: K, J, T, E, R and S.
You may save all of the received measurement data into SD card in Excel format in real time excluding any additional software!
More information can be found at www.tmatlantic.com
For more details about Wireless mobile measuring laboratory AKTAKOM you are welcome to T&M Atlantic, South hall of LVCC, at booth # 35156.
About T&M Atlantic.
www.tmatlantic.com is an online store that distributes oscilloscopes, anemometers, cable locators, clamp meters, digital multimeters, humidity meters, insulation testers, light meters, milliohm meters, RLC meters, sound level meters, tachometers, thermometers and soldering equipment to the laboratories, R&D centers, colleges, universities, tech companies, government contractors and to the general public. The site is secure and highly informative with a variety of educational videos and articles posted throughout the site. The majority of our products are sold under the AKTAKOM trade mark. We are also offering several other brands such as RIGOL, OWON, TRONEX and more.
Our Mission is to promote innovative, high-quality, reliable and easy to use measuring equipment. Our main goal is Complete Customer Satisfaction.
We strive to become one of the leading suppliers of electronic measuring devices through a combination of newest technologies, affordability to the customers, ease of use and competitive prices for all our products.