Upgraded MP2110A sampling oscilloscope PAM4 evaluation functions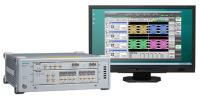 10/26/2021
Anritsu Corporation is pleased to announce the release of its Signal Processing Software Option-098 adding upgraded functions for evaluating PAM4 differential electrical signals to the BERTWave Sampling Oscilloscope MP2110A.
This new option supports standards-compliant measurement of IEEE 802.3 optical-module electrical interfaces, speeding up communications in data centers and mobile networks by upgrading evaluation efficiency for 50 to 400G optical modules using PAM4 technology.
BERTWave™ MP2110A Features
Simultaneous built-in single/dual/quad-channel sampling oscilloscope and BERT
Sampling oscilloscope with world-beating sensitivity for analysis of optical signals from 26-Gbaud NRZ to 53-Gbaud PAM4 plus optional built-in clock recovery unit
Fast and stable measurement using built-in PC.
Click for more details of MP2110A.
www.anritsu.com
---
Related Information:
Design. Engineering. Value. Interest. Creativity. Encyclopedia.