T&M Atlantic new service: Series and Parallel Resistor Calculator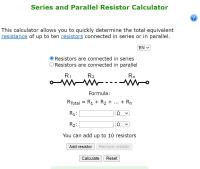 10/18/2023
This calculator allows you to quickly determine the total equivalent resistance of up to ten resistors connected in series or in parallel.
Use it to find the total equivalent resistance of a series or parallel resistance circuit.
This Series and Parallel Resistor Calculator enables you to add up to 10 resistors. Enter the resistor values in the value box, and then the value of total parallel resistance will display immediately. Entered resistance value are available in ohms (Ω), kilohms (KΩ), or megohms (MΩ).
Other T&M Atlantic Calculate Resistor Services include:
Resistor Color Code Calculator
Series LED Resistor Calculator
Spark-extinguishing RC Circuit Calculator
---
Related Information:
Design. Engineering. Value. Interest. Creativity. Encyclopedia.