Measuring temperature with Aktakom AMM-1022 digital multimeter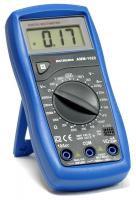 10/09/2017
Aktakom AMM-1022 is a professional handheld digital multimeter with LCD. Single rotary switch operation makes a measurement process very convenient. AMM-1022 multimeter is equipped with overload protection, low battery indication and data hold functions to make your work easier.
For every measurement process you will find a detailed instruction.
Thus for temperature measurement with Aktakom AMM-1022 digital multimeter you need to take the following steps:
Set the switch to TEMP range position.
LCD will display the current environment temperature.
When measuring the temperature with thermocouple you may use 'K' type probe. Insert the black plug to the COM jack and the red one to the TEMP jack, touch the area or surface of the object to measure with the temperature sensor.
Check the results in the LCD.
On page of Aktakom AMM-1022 in Application tab you will find much more similar description on various measurements like:
Transistor measurement
Voltage measurement
Continuity test
Current measurement
Resistance measurement
Diode test
Much more details are available on page of Aktakom AMM-1022
---
Related Information:
Industry news
Deals - Special offers
Design. Engineering. Value. Interest. Creativity. Encyclopedia.