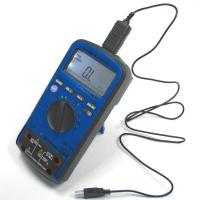 09/04/2017
Aktakom AM-1152 multimeter is designed for measuring DC and AC voltage, resistance, capacitance, frequency, temperature, duty cycle, diode test and continuity test of electrical circuits. This model is considered extra-safety.
The features of AM-10152 can be checked below:
True RMS
Two-line LCD display, 6600 counts with backlight
Bar graph indication and frequency measurement path (65 segments)
Min/Max and peak values
Relative measurements
Diodes test / Continuity test
2 protective fuses
Low battery indicator / Auto turn-off
Optical USB 1.1 interface for PD connect
1000V CATIII / 600V CATIV
For the full-scale control of Aktakom AM-1152 digital multimeter they use Aktakom DMM Pro software. This software due to its wide range of capabilities to process the measurement data can turn an ordinary multimeter or several multimeters and a PC into efficient multichannel and multifunctional system.
Aktakom DMM Pro main features:

Displaying (several windows): value, graphic scale, graph (recorder), table. All of the windows can be maximized to the screen size, moved to different screen corners, squarely placed etc.;
Mathematical functions (addition, subtraction, multiplication, division), constant or variable;
Statistics:
- ability to set the max. volume of the buffer for calculation (in samples);
- set the number of the histogram columns;
- chose the average computing method;
- switch on the majority filter.
Max., min., average measuring values;
Results cutting: period change, overrunning the upper and lower limits of the values (limits) or within them;
Alarm signaling: sound, screen indication, external program launch;
Type of reaction to the alarm signaling:
- sound signaling: operation mode (after every measurement, overrunning the lower limit, overrunning the upper limit, overrunning both limits, in the limit signaling);
- sound selection out of sound palette for every event type.
Screen indication – background, image selection for every event type;
Ability to extend the value on the screen (in a separate window). Variants:
- Measured value with measuring units, measured value with measuring units and max. value on the right, average, minimum, graphic scale below, only graphic scale, only graph;
- Current time displaying, time from the measurement start, averaging time, max., min.;
- measurement quantity displaying for averaging, max., min.
Data retention in different formats by the following terms: time, data-retention time, concerning the limits – similarly to the alarm signaling;
Data retention (including comments on a concrete measurement and also parameters: date/time, serial number and device type). For Android there should be a place mark entered;
Information messages sending via e-mail by the terms (alarm signaling, period), sending addresses can be different for different types of messages;
Events and text notes glossary;
Feedback: measurement start at the external command;
Joint operation of two devices in one programs with functions of mathematics (e.g. power receipt), joint alarm signaling;
Ability to switch off advertisement during the software loading.
Aktakom DMM Pro software is worked also with Aktakom AM-1142, AMM-1130, AM-1171 digital multimeters.
More details can be checked on page of AM-1152