AKTAKOM ACK-1021 analog oscilloscope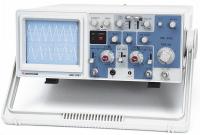 07/20/2015
There have been a wide range of high performance digital oscilloscopes introduced lately in the market. But anyway for some of measurement tasks engineers still require analog oscilloscope. One of the advantages of analog oscilloscopes is noise absence, namely ADC noise which is displayed as a steplike waveform on digital devices. If the precision of the waveform under measurement is one of the crucial requirements – you need to choose an analog oscilloscope.
AKTAKOM ACK-1021 analog oscilloscope is a laboratory type device. Friendly in use and high reliable this model is a perfect oscilloscope with advanced characteristics for a wide measurement range necessary for research, manufacture, education and other spheres of application.
Features:
2 channels
Bandwidth: 25 MHz
Electron-ray tube: 8 х 10 cm
Sensitivity: 1 mV/div...5 V/div
Sweep ratio: 0.1 µs/del...0.2 s/div
Max. Input voltage: 400 V
Time response 14 ns
Input resistance: 1 MΩ
Input capacity: 25 pF
Triggering mode: auto oscillating, sleep, television;
Triggering source: CH1, CH2, network, external one
Additional functions: Z-input, sweep delay
Supply: 110/220 V
Find more about AKTAKOM ACK-1021 analog oscilloscope by clicking the present link.
---
Related Information:
Deals - Special offers
Design. Engineering. Value. Interest. Creativity. Encyclopedia.