Rohde & Schwarz introduces the R&S MXO 4 series, the next generation oscilloscopes for accelerated insight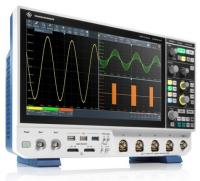 10/06/2022
Rohde & Schwarz presents the new R&S®MXO 4 series, the first in the next generation of oscilloscopes. The R&S MXO 4 oscilloscopes come in four-channel models with bandwidths of 200 MHz, 350 MHz, 500 MHz, 1 GHz, and 1.5 GHz. They have a starting price of 7,600 euros, many unparalleled functions and excel in both performance and value.
R&S MXO 4 series oscilloscopes boast the world's fastest update rate of 4.5 M acquisitions per second, revealing more signal activity than any other available oscilloscope. Development teams can quickly see and isolate infrequent events, get a better understanding of physical layer signals and test faster. This is unparalleled in the industry.
A unique 200 Gbps processing ASIC makes this feature possible. It is one of several new technology blocks Rohde & Schwarz engineers developed and implemented for the first time in the R&S MXO 4 series. Dr. Andreas Werner, Vice President Oscilloscopes at Rohde & Schwarz, explains: "The new hardware and software technology blocks and architecture allowed our development team to achieve a once-in-a-decade engineering breakthrough. Our customers will experience a whole new level of performance, and all at a price more affordable than has ever been seen on the market."
---
Related Information:
Design. Engineering. Value. Interest. Creativity. Encyclopedia.