Yokogawa released DLM5000 series mixed signal oscilloscopes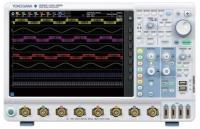 11/24/2020
Yokogawa Test & Measurement Corporation announced new DLM5000 series mixed signal oscilloscopes (350 MHz and 500 MHz models).
The new DLM5000 oscilloscopes are successors to the eight-channel DLM4000 series mixed signal oscilloscopes, and feature a number of improved functions and enhanced operability. In addition, a DLMsync option is planned to be released by next spring that will enable measurements to be taken simultaneously by two connected DLM5000 oscilloscopes.
The DLM5000 series is targeted at developers of new automotive, mechatronics, and electronics products, and may be used in combination with Yokogawa ScopeCorders, power analyzers, and other products.
The DLM5000 series models have either four or eight analog input channels. With a single DLM5000 oscilloscope, it is possible to simultaneously view signals and inputs from up to eight analog signals and a 16 bit logic channel (32 bit logic channel available as an option).
The DLM5000 user interface has many of the features that have been well received in the DLM4000 series, including a jog shuttle and rotary knobs, and now also includes a large touch screen. Together, these features greatly simplify the viewing and analysis of waveforms.
www.yokogawa.com
---
Related Information:
Design. Engineering. Value. Interest. Creativity. Encyclopedia.