Pocket-size DT830B digital multimeter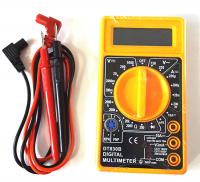 02/15/2021
Herewith we'd like to offer you DT830B digital multimeter – a dream for any service specialist and amateur due to its very low price, simplicity and usefulness.
It can be considered a good gift for students – future engineers and technicians!
DT830B is a digital multimeter that can measure AC and DC voltage, DC current, resistance. It has diode and transistor test functions as well.
DC Voltage (DCV): 1000V
AC Voltage (ACV): 750V
DC Current (DCA): 10 A
Resistance: 2 MΩ
For your convenience the device has a large display (3.5 digit LCD, 7 segment, 0.5" high). Compact size (5 x 2.8 x 1 in / 126 x 70 x 25 mm) and light weight (6 oz / 170 g only) will allow you to take it with you simply putting in into your pocket.
Find more specifications on page of DT830B following this link
.
---
Related Information:
Deals - Special offers
Design. Engineering. Value. Interest. Creativity. Encyclopedia.