AKTAKOM ASE-7012 Smoke Absorber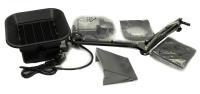 07/12/2023
It is a well-known fact that soldering works are associated with harmful substances emission. The most dangerous components of solder smoke are the particles of abietic acid (rosin) capable of causing asthmatic reaction. In addition rosin particles or decay products of flux as a rule are heavily polluted with lead which is really dangerous.
Soldering smoke worsens visibility in the workplace that leads to increased fatigability and reduces the operation quality.
The main device used to solve this problem is a smoke absorber. Even the simplest model will help you to reduce the negative impact of solder smoke.
AKTAKOM ASE-7012 smoke absorber is a model with a high performance fan and an activated carbon filter designed to absorb flux and lead fumes. Its absorption capacity is 1 m3/min. Power sonsumption: 23 W (50/60 Hz).
Find more about ASE-7012 Smoke Absorber on its page.
---
Related Information:
Deals - Special offers
Design. Engineering. Value. Interest. Creativity. Encyclopedia.