Soldering station for amateurs and professionals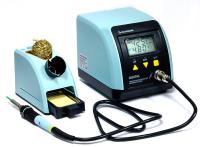 03/10/2023
The range of
Aktakom soldering stations
is very wide and variable. You may always choose the right model for your purposes. We would like to draw your attention to
Aktakom ASE-1116
soldering station which is used in traditional types of soldering as well as for lead-free.
This compact but powerful enough soldering station (60W) has sufficient functionality to help you with almost any soldering task.
Temperature range of ASE-1116 is 160°C - 480°C. The required temperature is kept stable and displayed on a wide backlit LCD which displays the actual temperature of the soldering tip and also the setting temperature. Temperature is controlled with the buttons on the station front panel.
To make your work as much convenient as possible there is a special stand with a sponge used for the soldering iron.
To see more details go to Aktakom ASE-1116 soldering station web page.
---
Related Information:
Industry news
Deals - Special offers
Design. Engineering. Value. Interest. Creativity. Encyclopedia.