Reliable and low-cost AKTAKOM soldering station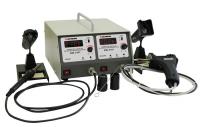 01/24/2022
Since soldering and desoldering processes when repairing electronics are usually made sequentially by one specialist it's obviously convenient to use a universal system combining the features necessary for both operation types. AKTAKOM ASE-3101 professional dual-channel multifunction station is one of such equipment uniting a soldering and desoldering functions in one block with digital temperature indication. This allows ASE-3101 to occupy a minimal space and organize a high performance work area.
Multifunction dual-channel soldering and desoldering station equipped with 60W/24V mounting soldering iron of 392…932°F / 200...500°C temperature range; 60W/24V disassembling vacuum soldering iron of 572…842°F / 300...450°C temperature range; replaceable tips; high-quality durable easy replaceable ceramic heating element; C° to F° switchable.
AKTAKOM ASE-3101 is equipped with high-quality heating element that can be easily replaced. This heating element is covered with alumoceramic layer and inserted into ceramic housing. Such a reliable structure fully isolates the heating element from the environment effect and therefore protects the heating element from corrosion providing its high durability accordingly.
Multilayer (copper, steel and stannum) cover of the soldering iron tip operating part has excellent thermal conduction and provides optimal high effective heat transmission.
Features:
Two channels for assembling and disassembling items during repair
The ergonomic design of the soldering iron handle provides convenient work
Digital temperature indication
The temperature control scheme provides high precision with accuracy not more than
2°F/-16.7°C from the set temperature
Simplicity of calibration: controllers are located on the station front panel
The power saving scheme: if the disassembling soldering iron is not used for more than 10 minutes the temperature automatically decreases that prolongs service life of the heater and the tips
The device of power supplies of soldering irons is isolated from an alternating current network
For the heating element supply the voltage of 24V is used
High-quality and durable ceramic heating element produced in Japan provides quick heating
Please note: ASE-3101 Soldering station is available in both (C°) and (F°) temperature settings. It is automatically set in (F°), however if you'd like it to be in (C°) please notify us in comments when making a purchase, or by contacting our sales department sales@tmatlantic.com.
More details are available here.
---
Related Information:
Deals - Special offers
Design. Engineering. Value. Interest. Creativity. Encyclopedia.