Facts about Tronex Pliers. We are ready to offer 44 models to you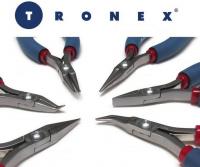 04/25/2016
Manufacturers from all over the world prefer Tronex tools because of their best design and high quality. Below are some facts about Tronex Pliers and why they are so popular:
Design
Tronex pliers have unique design features such as: bearing ring joint design, rounded edges, short/long jaw options, induction-hardened tips and cushion ESD-safe grips.
Manufacture
All Tronex pliers are made in a modern facility in the USA.
Quality
All pliers are individually checked for quality and performance
Innovation
Tronex is an innovator with 7 new designs in the last 2 years!
In our Online store we are ready to offer 44 models of precision pliers. Check the link and choose the model you prefer for your work.
---
Related Information:
Industry news
Deals - Special offers
Design. Engineering. Value. Interest. Creativity. Encyclopedia.