AKTAKOM ASE-7011 smoke absorber with changeable slope angle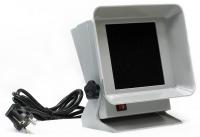 10/12/2020
If you are looking for an efficient and at the same time powerful smoke absorber with low noise AKTAKOM ASE-7011 would be the right model to choose.
Filtration is accomplished with an activated carbon impregnated urethane foam filter that can be easily replaced. Due to its high efficiency ASE-7011 smoke absorber is recommended for the use at factories, product lines and laboratories.
Changeable slope angle allows using AKTAKOM ASE-7011 on any surface and height because you may direct the device right towards the fume source changing its slope.
Low price of ASE-7011 smoke absorber is one more advantage of this model.
---
Related Information:
Deals - Special offers
Design. Engineering. Value. Interest. Creativity. Encyclopedia.