AKTAKOM ATK-4001 – a new step in resistance measuring technology!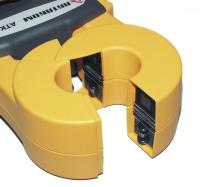 03/14/2016
AKTAKOM ATK-4001 clamp meter has 2!!! opening clamps and differs from the similar clamp meters because through the additional winding it can additionally influence the object under measurement that generally allows taking measurement of the resistance outline. ATK-4001 is designed for grounding resistance, leakage current measuring as well as for continuity test. This model allows user to take measurements only on one ground wire without using any additional electrodes, also ATK-4001 can be used to test multiple grounds systems without turning them off.
On the device web page you will find its detailed description, additional pictures, error tables, application examples as well as the measurement guidance.
---
Related Information:
Deals - Special offers
Design. Engineering. Value. Interest. Creativity. Encyclopedia.