AKTAKOM AM-2002 Multifunctional Insulation tester. Choice of professionals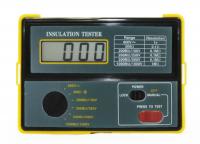 04/18/2022
AKTAKOM AM-2002 digital multifunctional insulation tester is designed to measure isolation resistance and smart electric circuits at various operating voltage. Besides the device has two additional measurement modes:
the resistance measurement of low-resistance electric circuits,
AC voltage measurement.
These two additional modes significantly broaden the application field making the operation with this device easy and convenient.
When measuring the insulation resistance in cable network it's also important to know the resistance of the cable itself. As a rule, these operation types are connected with measurements in electric networks where the voltmeter mode is always required. Considering these functional capabilities AKTAKOM AM-2002 has much more advantages comparing to any other insulation testers.
Measurement of the insulation resistance and smart circuits is taken at 200MΩ and 1000MΩ ranges, at the same time the test voltage at the range of 200MΩ can be 100V, 250V and 500V, and at the range of 1000MΩ - 1000V. Short circuit current equals approximately 2mA. The inaccuracy of the resistance measurement is ±3%. In voltmeter mode AM-2002 operates at 50-500 Hz frequency and has only 1 measurement range which is 600V. The main inaccuracy of voltage measurement equals ±1%. Input resistance of the voltmeter is approximately 4.5MΩ. The device is equipped with overload protection of up to 1000V.
To measure resistance in low-resistance electric circuits there is 200Ω range used, measurement inaccuracy of it is ±1%. At this range zero is set automatically. Voltage doesn't exceed 3.2V.
Power supply of AM-2002 is 9V and provides long operation time with only 1 set of batteries (6 pcs, AA type).
Find more details on the page of AKTAKOM AM-2002 multifunctional insulation tester.
---
Related Information:
Design. Engineering. Value. Interest. Creativity. Encyclopedia.