New DSG800 series RF Signal Generator from Rigol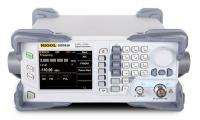 09/28/2015
Rigol just launched the new product DSG800 series RF Signal Generator on Sep.20.It delivers unprecedented value to engineers integrating RF technology into their portfolios of designs.
The DSG800 series includes two models that cover output frequencies from 9 kHz to 1.5 GHz (DSG815) or 9 kHz to 3.0 GHz (DSG830) respectively. The instruments provide maximum output power up to +20 dBm (typical) and low SSB phase noise –105 dBc/Hz (typical), amplitude accuracy of +/- 0.5 dB (typical), and frequency resolution 0.01 Hz at any frequency. An oven-controlled crystal oscillator time-base provides < 5 ppb temperature stability and < 30 ppb/year aging stability, the most accurate and stable available in this class.
Please review the product features and benefits as below summary:
Up to -105 dBc/Hz (typical) Phase Noise
Up to +20 dBm (typical) Maximum Output Power
High Amplitude Accuracy
Excellent Amplitude Repeatability
Complete AM/FM/?M Modulation
Enable to generate LF signal including DC
Powerful Pulse Modulation Function
More details are available of pages of DSG815 and DSG830 RF Signal Generators.
---
Related Information:
Deals - Special offers
Design. Engineering. Value. Interest. Creativity. Encyclopedia.