RIGOL's hit – DS1054Z Digital Oscilloscope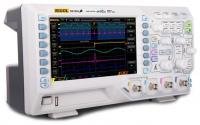 03/18/2015
RIGOL DS1054Z low cost digital oscilloscope is recognized as the most popular innovative product of 2014! This new model has broadened Rigol DS/MSO1000Z series digital oscilloscopes.
DS1054Z is a four channel oscilloscope with 50 MHz bandwidth. Due to patented innovative technology UltraVision the device is capable of providing the maximum memory depth of up to 12 Mpts, waveform capture rate is of up to 30000 wfms/s, real-time waveform record (opt.) is up to 64000 frames.
Besides new DS1054Z digital oscilloscope has a broadened synchronizing system with a capability of I2C, SPI, RS-232 serial bus signals triggering and decoding (opt.).
Read more about new DS1054Z digital oscilloscope visiting its web page.
Follow our news!
---
Related Information:
Deals - Special offers
Design. Engineering. Value. Interest. Creativity. Encyclopedia.