Rigol Oscilloscope 200MHz Best Seller!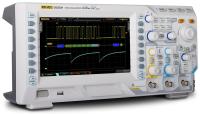 DS2202A 200 MHz Digital Oscilloscope
Original innovative
UltraVision
technology developed by Rigol combines perfect waveform capture rate, high memory depth, easy captured waveform navigation. In this technology real-time signal record is combined with advanced signal analysis capabilities and bus signal decode function. At the same time the signal is displayed with controllable brightness (up to 256 levels) depending on the signal intensity.
Original
Price $1630.00
On Sale $1499.00