Yokogawa Test & Measurement Releases AQ6377 Optical Spectrum Analyzer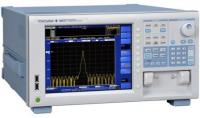 01/31/2020
Yokogawa Test & Measurement Corporation announced the development of the AQ6377 optical spectrum analyzer. The AQ6377 is a benchtop analyzer that employs the dispersive spectroscopy technique to measure the optical spectra of laser light in the 1.9–5.5 μm wavelength range with high accuracy, wide dynamic range, and high resolution. The support of measurements in the 5-μm band is an industry first for instruments of this type.
An optical spectrum analyzer is a measuring instrument that resolves the wavelength components of photonics devices such as semiconductor lasers and fiber lasers to evaluate their wavelength characteristics. The AQ6377 will be used to enhance optical devices in the 5-μm band and accelerate their use in environmental measurement and other fields.
The main features:
1. Industry-leading measuring range
The AQ6377 features a dynamic range of 73 dB and a close-in dynamic range of 50 dB, which are 2,000 times and 10 times greater, respectively, than the dynamic ranges of interferometer-type instruments operating in the 5-μm band. No other instrument on the market offers such high performance, which enables the evaluation of the side mode characteristics of semiconductor lasers.
2. Industry's highest wavelength resolution
The wavelength resolution of the AQ6377 is an industry-leading 200 pm, which is three times that of interferometer-type instruments operating in the 5-μm band.
3. Accurate measurement of optical spectra
The AQ6377 comes with two additional functions. The first is a function that removes water vapor, which absorbs light at certain wavelengths, from the spectrometer. The second is a function that eliminates artifacts from higher-order diffracted light, a phenomenon intrinsic to all spectrometers in which wavelengths two to three times longer than those of incident light are generated.
More details are available here.
---
Related Information:
Design. Engineering. Value. Interest. Creativity. Encyclopedia.