Rohde & Schwarz adds new handheld microwave spectrum analyzers to its R&S Spectrum Rider FPH family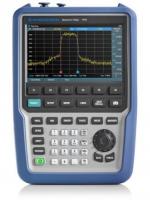 11/23/2018
Rohde & Schwarz has expanded its successful R&S Spectrum Rider FPH family with three new base models providing frequency ranges from 5 kHz to 6 GHz, 13.6 GHz and 26.5 GHz. The R&S Spectrum Rider FPH was the industry's first handheld spectrum analyzer to offer a capacitive touchscreen and a unique frequency upgrade concept via keycodes. Since upgrades require neither downtime nor recalibration, users can effortlessly upgrade their base models, e.g. from 26.5 GHz to 31 GHz.
New higher-frequency models enable the rugged R&S Spectrum Rider FPH to perform a vast range of measurement tasks in the field and lab. In combination with a number of useful options, the R&S Spectrum Rider FPH is a handy tool for diverse applications, such as verifying signal transmission over 5G, broadcast, radar and satellite communications links. The instrument will appeal to field technicians and lab engineers alike, as it supports everyday measurement tasks in aerospace and defense, mobile network testing and broadcasting, as well as tasks to be performed by regulatory authorities and tasks in education.
Weighing just 2.5 kg, the R&S Spectrum Rider FPH is ideal for mobile use. Its battery lasts more than six hours, making the instrument capable of working a full day without recharging.
The analyzer can be remotely controlled via USB or LAN. For even more convenience, the R&S MobileView app for iOS and Android provides wireless remote control of the R&S Spectrum Rider FPH from a mobile device.
---
Related Information:
Design. Engineering. Value. Interest. Creativity. Encyclopedia.