RIGOL announced expansion of RF portfolio with introduction of RSA3000E real-time spectrum analyzer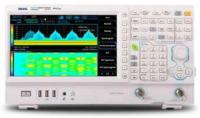 01/17/2020
RIGOL Technologies announced another significant expansion of their RF Test Portfolio with the release of a new lower cost Real-Time Spectrum Analyzer.
RIGOL's New RSA3000E Spectrum Analyzers bring the power of UltraReal real-time analysis to a new class of customer who previously had no access to this advanced capability. The RSA3000E combines the power of a high performance Swept Spectrum Analyzer with the analysis capability of a Real-Time Analyzer at an unprecedented entry level price point.
The RSA3000E is available in 1.5GHz and 3GHz models with available tracking generators. The instrument comes standard with 10MHz of real-time analysis bandwidth with seamless capture and a 9.3 microsecond 100%POI. The RSA3000E provides the same 7 rich visualization modes and powerful triggering capability as RIGOL's other UltraReal products, only at a lower entry price.
The RSA3000E also can function as a traditional swept spectrum analyzer with class leading specifications. Resolution Bandwidth (RBW) is standard at 1Hz, noise floor as low as -161dBm, phase noise of -102dBc/Hz, and a full span sweep as fast as 1ms provides a powerful analyzer for the entry level customer.
More details can be checked here.
www.rigolna.com
---
Related Information:
Design. Engineering. Value. Interest. Creativity. Encyclopedia.