Rohde & Schwarz and MediaTek present world's first test solution for A-BeiDou location based services (LBS)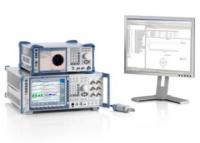 08/11/2017
The successful A-BeiDou verification of the MediaTek device under test (DUT) using the Rohde & Schwarz test system marks an important milestone in the GNSS evolution of positioning and navigation. It was the first time that the setup could be used to validate and verify a device for A-BeiDou location based services.
The R&S TS-LBS from Rohde & Schwarz is a test system for testing GNSS and network-based LBS. It consists of an R&S CMW500 as the base station simulator and an R&S SMBV100A GNSS simulator. The R&S CMW500 provides assistance data to the DUT and the R&S SMBV100A simulates the BeiDou satellites. The R&S TS-LBS test system can be used to obtain GCF and PTCRB certification as well as network operator specific certification for chip sets and mobile devices.
Alexander Pabst, Vice President Systems and Projects within the Rohde & Schwarz Test & Measurement Division, says: "We are delighted to collaborate with MediaTek and to contribute our test and measurement expertise to the development of A-BeiDou location based services. Rohde & Schwarz already has a strong global footprint with testing solutions for A-GNSS, such as A-GPS or A-Glonass, and for OTDOA/eCID. Thanks to our close cooperation with our partners, Rohde & Schwarz is committed to accompanying the evolution from existing to new satellite systems such as A-BeiDou with our innovative test and measurement solutions."
TL Lee, General Manager of the Wireless Communications Business Unit at MediaTek, says: "MediaTek is committed to developing and testing the latest mobile technologies and standards to drive the industry forward. We have worked closely with Rohde & Schwarz to develop and validate the test solution for A-BeiDou LBS, verifying the A-BeiDou proof-of-concept trial system based on the R&S TS-LBS and MediaTek DUT. This represents an exciting step forward in the evolution of LBS technology, enabling the mobile ecosystem to verify chipsets and mobile devices on the new LBS technology."
---
Related Information: