Controlling complex multicamera recordings with the ingest and playout platform from Rohde & Schwarz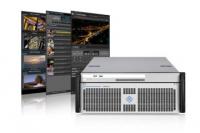 09/27/2016
Rohde & Schwarz developed R&S VENICE Control in close cooperation with leading studio operators to meet the demanding requirements associated with multicamera recordings. The software application facilitates the recording of live or non-live content for broadcasters and operators of TV studios and outside broadcast (OB) vehicles. R&S VENICE Control provides a clear overview of the recorded channels, which users can arrange as desired. Up to 16 channels can be controlled simultaneously, regardless of the resolution of the individual channels, allowing recording of SD, HD and UHD at the same time. Channels can be bundled into up to four groups, while still being individually controllable from a client. This makes it possible to start all 16 recording channels simultaneously with a single mouse click. The workflow becomes more efficient since one operator can control and monitor multiple recordings in parallel.
All settings required for recording can be saved and then applied to individual channels or to channel groups. Time-consuming manual configuration of each channel is a thing of the past. Even the tedious preparation of recurring events, such as shows that are recorded weekly, is accomplished more quickly. Automatic file and folder naming is another time saver. The application automatically creates filenames and folder structures based on wildcards. All the user has to do is create parameters such as date and time, server name and channel number, which are then automatically filled with the required values.
The new client-server architecture of R&S VENICE Control offers complete redundancy for reliable, interruption-free operation. The application enhances the R&S VENICE ingest and playout platform for highly efficient broadcast workflows. R&S VENICE performs the tasks of a classic video server, such as ingest, studio and channel playout, as well as file-based tasks such as file import and export, transcoding and rule-based file management. R&S VENICE was designed to meet the challenging requirements posed by live production, content creation and distribution.
The R&S VENICE Control application will be available from Rohde & Schwarz starting in the fourth quarter of 2016.
---
Related Information: