12/07/2010
Tektronix, the world's leading manufacturer of oscilloscopes, announced a significant expansion of its oscilloscope offerings with the introduction of a new mixed signal oscilloscope platform, the MSO/DPO5000 Series. Tektronix also unveiled revolutionary new TPP1000 and TPP0500 high-bandwidth and low capacitance passive voltage probes with breakthrough performance. Taken together, the new instruments and probes give embedded systems design engineers unmatched performance and analysis tools for complex component and system-level debug and validation tasks, all at highly competitive price points.
Oscilloscope models ranging from 350 MHz to 2 GHz are the single most popular segment for oscilloscopes and used to develop products for a broad range of industries and applications. Across the board, consumer and industrial products are becoming more intelligent with more advanced embedded electronics that include many components connected by chip-to-chip buses, wired and wireless network connections, complex energy management schemes, image displays and sophisticated user interfaces. With its latest offerings, Tektronix demonstrates its close alignment with the evolving – and more demanding – needs of design engineers.
"With ongoing economic challenges, our customers have even less time to design products than before and they must work with a growing range of applications, requiring ever more capable testing solutions," said Roy Siegel, general manager, Mid-range Oscilloscopes, Tektronix. "With our new oscilloscope platform we are giving engineers the analysis functionality and performance they need for many applications in one instrument, available at a low breakthrough price point. Our goal is to help our customers save time by simplifying test. And no competitor comes close to matching the performance of our new high-bandwidth and low-capacitance passive probes."
New Oscilloscope Platform: More Performance and Analysis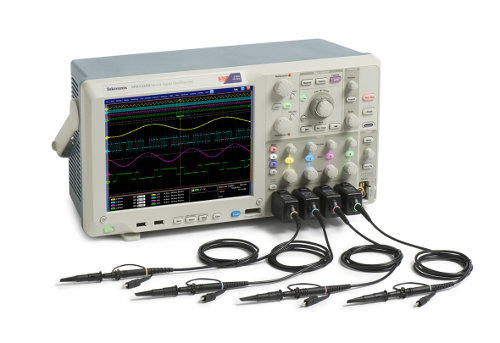 The new MSO/DPO5000 Series incorporates many of the most popular features from Tektronix leading performance oscilloscopes. Features include FastAcq with a >250,000 wfm/s maximum waveform capture rate to discover elusive problems, FastFrame™ segmented memory acquisition and long record length to capture long time periods at high resolution, extensive built-in tools for in-depth analysis of complex designs, and a Windows-based user interface for easy networking and intuitive operation.
The series features eight models ranging from 350 MHz of analog bandwidth and 5 GS/s sample rates to 2 GHz and 10 GS/s for higher-end applications. Record length ranges from 12.5M up to 250M for in-depth analysis and debug. Each model has 4 analog channels. The MSO models also offer 16 digital channels and built-in parallel bus trigger and decode functionality. In addition, the DPO models are field upgradeable to MSO models should customers need that capability in the future.
The MSO/DPO5000 Series offers critical tools for every stage of debug. DPX® technology with FastAcq enables engineers to quickly see problems in their signal with one of the industry's fastest acquisition rates up to 2 GHz, then use over 350 trigger combinations to capture that event the first time. Extensive triggers for serial and parallel bus content enable fast validation of bus operation and make it possible for engineers to quickly track down system-level problems in embedded systems. Providing industry best waveform navigation, the built-in Wave Inspector® search capability can automatically look through an entire acquisition of up to 250Mpoints to find user-specified events and mark every occurrence for fast navigation to problem areas. Over 50 automated measurements, plus advanced waveform math, histograms, statistics and other built-in analysis tools are available to analyze the signal and determine root cause of a problem or validate operation of the design.
To help troubleshoot system-level interactions in complex embedded systems, all 16 digital channels of the MSO5000 Series, are fully integrated into the oscilloscope, allowing engineers to trigger across all input channels, automatically time correlating all analog, digital, and serial/parallel bus signals. Providing the industry's best digital timing resolution in this class of oscilloscope, MagniVu™ ultra high resolution acquisition mode acquires up to 10,000 points at up to 16.5 GS/s (60.6ps resolution). MagniVu is essential for making accurate timing measurements for setup and hold, clock delay, signal skew, and glitch characterization.
Using the MSO/DPO5000 Series, with optional support for automated trigger and decode of I2C, SPI, RS-232 and USB 2.0 serial buses, engineers can focus on solving problems and not on manually decoding serial protocols. Optional analysis support for jitter and eye pattern analysis, limit and mask testing, serial compliance tests, power measurements, and DDR memory, among others further enable engineers to use one instrument for a wide range of applications. The portable package means the instruments can be used anywhere from the bench to the factory floor as needed and being a height of 5 rack units makes it the ideal tool for ATE environments as well.
Revolutionary High-Speed Passive Probes Minimize Capacitive Loading
The revolutionary TPP1000 and TPP0500 passive voltage probes deliver the benefits of passive probes – high input dynamic range, robust mechanical design and lower cost – with performance similar to an active probe. These high-impedance (10 MΩ input resistance) passive voltage probes limit the effect on circuits with capacitive loading of just 3.9 pF at the probe tip, a major breakthrough in passive probe technology. This represents a significant improvement compared to competitive passive voltage probes that have at least 9.5 pF input capacitance. The TPP1000 passive probes also deliver 1 GHz of bandwidth. Until now, high-impedance passive probes offered a maximum of 500 MHz bandwidth. With twice the bandwidth and half the capacitive loading, the TPP Series probes deliver more accurate signal capture. Included standard with every MSO/DPO5000 and MSO/DPO4000B Series model (see below), the TPP probes add significant value at no additional charge.
"Listening to our customers is a key priority for Tektronix. Customers have told us their number one unmet need is to reduce the impact of the probe on their circuit. Our revolutionary TPP Series probes provide half the circuit loading while maintaining the ease of use of a passive probe. In addition these innovative probes are only compatible with oscilloscopes from Tektronix," said Siegel.
New Enhancements to MSO/DPO4000 Series Offers Industry-First Ethernet Bus Analysis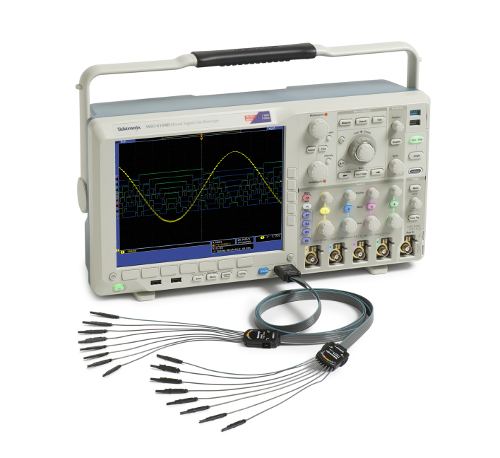 Tektronix is also announcing significant enhancements to the popular MSO/DPO4000 Series with the new "B" Series providing even more performance at the same price point. The MSO/DPO4000B Series now offers twice the standard record length to capture more time with more resolution and improved digital acquisition specifications to address higher voltage applications, faster signals, and low-power circuits. The series includes six models ranging from 350 MHz and 2.5 GS/s to 1 GHz and 5 GS/s, along with standard 20M record lengths.
Ideal for low-speed and mid-speed serial debug, the MSO/DPO4000B Series now adds support for Ethernet (10BASE-T and 100BASE-TX) and MIL-STD-1553 buses along with the added analysis capability of Limit and Mask Testing. The MSO/DPO4000B Series is the industry's first oscilloscope-based trigger, decode and search solution for Ethernet buses. The series also features many customer-driven improvements such as mounting to network drives and LXI Class C compliance.
Tektronix, www.tektronix.com