T&M Atlantic new service: Inductor Color Code Calculator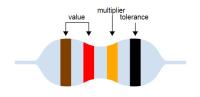 11/01/2023
T&M Atlantic introduces the new service tool - Inductor Color Code Calculator. This tool allows you to determine inductance by axial inductor color coding and to determine axial inductor color coding by inductance. It displays Rated inductance and Inductor tolerance all in one easy to read chart.
A reverse engineering option allows user to determine inductor color coding by inductance, simply enter specified nominal inductance and the inductor tolerance, the program will display the color coding.
Other T&M Atlantic services include:
Resistor Color Code Calculator
Series LED Resistor Calculator
Spark-extinguishing RC Circuit Calculator
---
Related Information:
Design. Engineering. Value. Interest. Creativity. Encyclopedia.