Antistatic AKTAKOM AEC-3532 chair for your laboratory or office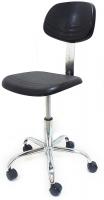 09/05/2022
AKTAKOM has a wide range of comfortable chairs with height and back regulation which can be used both in office and at home. But mostly they are suitable for service centers, measuring laboratories and electronics production due to their antistatic features and safe design.
Herewith we'd like to introduce AKTAKOM AEC-3532 chair. Its seat and back is made of PU foaming. ESD wheels and five-star feet provide good conductivity and make your work safe.
Here are the main features of AEC-3532 chair:
ESD-safe
Surface resistance: 106-109 Ω
Height adjustable: 18.1 - 24 in / 460 - 610 mm (with the wheels)
Five star feet: chrome plating steel, R = 10.2 in / 260 mm
Wheels: high quality plastic conductive wheels, 5 pcs
Color: Black
Seat: 15 x 15 in / 380 x 380 mm
Back: 13.8 x 9.8 in / 350 x 250 mm
---
Related Information:
Industry news
Deals - Special offers
Design. Engineering. Value. Interest. Creativity. Encyclopedia.