AKTAKOM ASE-1102 durable soldering station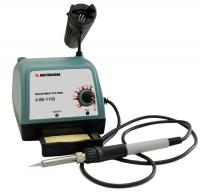 12/13/2019
AKTAKOM ASE-1102 is a professional temperature controlled soldering station which is especially recommended for transistors and microchips assembly produced in accordance with CMOS technology. The temperature can be easily regulated with a rotary switch on the front panel.
ASE-1102 is equipped with high-quality heating element that can be easily replaced. This heating element is covered with alumoceramic layer and inserted into ceramic housing. Such a reliable structure fully isolates the heating element from the environment effect and therefore protects the heating element from corrosion providing its high durability accordingly.
Multilayer (copper, steel and stannum) cover of the tip operating part has excellent thermal conduction and provides optimal high effective heat transmission. ASE-1102 soldering station is capable of assembling with 482-536°F / 250-280°C tip temperature completely guaranteeing the safety of printed conductors and electronic components.
More details can be found of page of AKTAKOM ASE-1102 soldering station.
---
Related Information:
Deals - Special offers
Design. Engineering. Value. Interest. Creativity. Encyclopedia.