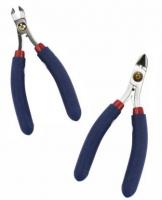 05/08/2019
Tronex hard wire cutters are designed specifically for cutting ultra fine hard wire ranging from .003" to .032".
To help explain, below are the top 10 facts about Tronex Fine Hard Wire Cutters:
10. Tronex offers 2 types of hard wire cutters: Class T and Class W cutters. Class T are harder, tougher and can cut harder and thicker wire than Class W Cutters. Class W cutters are designed to cut hard wire as fine as a human hair and have smaller and narrower heads than Class T Cutters. W cutters also have exceptionally sharp cutting edges.
9. The most commonly cut fine hard wires are Nitinol and Stainless Steel.
8. Test cutting a sample wire provided by the enduser is a recommended free service offered by Tronex to ensure that the best hard wire cutting tool recommendation is made.
7. Tronex hard wire cutters feature a set screw stop designed to prevent overlapping, reduce dulling and reduce shock from cutting force.
6. Tronex offers reconditioning services for Tronex hard wire cutters right at the Tronex California factory location.
5. Fine hard wire cutters are mostly purchased by medical device manufacturing companies making products such as catheters and pace makers. They are often used under a microscope.
4. Some of Tronex hard wire customers have been using carbon steel tools which when cutting hard wire, usually leave tiny nicks in the blade quickly making the cutter unable to cut and also unable to be resharpened.
3. Tronex hard wire cutters (except the 7011T) feature distinctive gold screw and shiny, polished finish.
2. For Tronex "T" cutters, tungsten carbide is silver brazed into the cutting edges of the tool creating an ultra hard cutting edge measured at 79 to 81 HRC (Carbon steel cutters measure 62 to 63 HRC) Tronex "W" cutters are made entirely from a tungsten alloy steel and have a hardness of 66 to 68 HRC. "W" cutters are totally unique to Tronex.
1. Tronex hard wire cutters are made in the USA (with the exception of the 7011T cutter).
Our Online store keeps a wide range of Tronex tools.