Programmable electronic load AKTAKOM ATH-8311 to emulate various load operation modes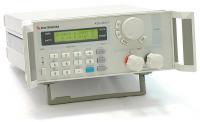 09/05/2018
AKTAKOM ATH-8311 programmable electronic load is designed to emulate various load operation modes when researching and adjusting power supplies of wireless devices with up to 360 V supply voltage, up to 30A load current and 300W power consumption.
ATH -8311 electronic load is capable of emulating operation in various modes (current, voltage, power and resistance stabilization). High functionality together with PC remote control provide this electronic load with high efficiency when testing power supplies.
ATH-8311 programmable electronic load has the following features:
LCD with backlight;
Load operation modes: load current stabilization, resistance stabilization, power stabilization (limitation);
Discrete setting of input parameters (with the keyboard typing directly or in step-by-step mode);
Protection types: overvoltage, overcurrent, overload, overheat, wrong polarity;
Ability to set the keyboard password;
Auto calibration;
RS-232 (TTL) interface. Galvanic isolation of the interface inside of the device is not supported.
Specifications:
Output parameters
Load voltage: 0…360 V;
Load current: 0…30 A;
power consumption: 300 W.
Current stabilization
Setting range: 0.000…2.999 A / 3.00…30.00 A;
Setting inaccuracy: (0.2%+3 mA) / (0.2%+30 mA);
Setting discrecity: 1 mA / 10 mA.
Resistance stabilization
Setting range: 0.01…99.99 Ω/ 100…500 Ω;
Setting discrecity: 0.1 Ω / 0.01 Ω.
Power limitation
Setting range: 0…300 W;
Setting discrecity: 0.1 W.
Supply: 110 V/220 V;
Dimensions: 11.2 x 3.7 x 8.5 in / 285 x 95 x 215 mm;
Weight: 10 lb / 4,5 kg.
---
Related Information:
Industry news
Deals - Special offers
Design. Engineering. Value. Interest. Creativity. Encyclopedia.